Model 120 - Differential Pressure Piston Type
Overview
The Mid-West Model 120 piston type gauges are primarily designed for liquid applications. Differential Pressure is sensed by the movement of a precisely ground floating piston/magnet in a precision bore against a calibrated spring. Any variation in pressure on either side of the piston/magnet will cause the magnet to move proportionally to the change in differential pressure. A rotary pointer magnet located close to the internal magnet, but outside the pressure housing, follows the movement of the piston magnet and indicates differential pressure on the dial. Piston type DP gauges exhibit a slight amount of bypass as the fluid crosses from the high to the low pressure port.
Specifications:
Differential Pressure Range 0-5 PSID to 0-110 PSID (0-0.35 to 0-7.0 bar)
Available in a Variety of Equivalent Ranges & Scales
Accuracy ±2%*
Operating Temp -40ºF to +200ºF (-40ºC to +93ºC)
Dial Size 2-1/2″ Round (Standard), 3-1/2″ Round (Optional), 4-1/2″ Round (Optional)
Working Pressures up to 6000 PSIG
Material of Construction of Body – Aluminum, 316/316L Stainless Steel, Aluminum Bronze and Monel
Materials of Construction of Internals – 316 Stainless Steel (Standard) and Monel
Switch Options:

SPDT 3W, 125 VAC/VDC, 0.25 amps
SPDT 60W, 240 VAC/VDC, 1.0 amps
SPST 60W, 240 VAC/VDC, 3.0 amps

Electrical Enclosures Weather-Resistant, NEMA 4X or NEMA 7
CE Marked in Accordance With Low Voltage Directive
Hazardous Locations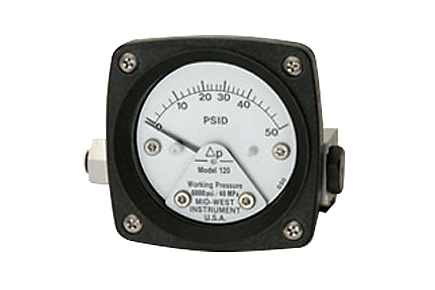 Pricing
Request a price from sales team.

Phone
Talk to one of our Specialists.
+44 (0) 118 9311188
Request Callback

Email
No time to call?
Send us an email.