Model 109 - Differential Pressure Bourdon Type
Overview
The Mid-West Model 109 is a precision differential pressure gauge capable of working in systems requiring medium to high differential pressure readout. A test quality bourdon tube assembly is used to sense the differential pressure. The assembly is encapsulated in a high pressure chamber that is fitted with a pressure connection to the inside of the bourdon tube and a second connection to the pressure chamber.
The output shaft of the bourdon tube and gauge movement is magnetically coupled through the solid wall of the pressure chamber to a sensitive jeweled pointer shaft in the dial housing outside the chamber. The bourdon tube is protected against over-range, in either direction, to the rated working pressure by a bi-directional relief valve.
Specifications:
Differential Pressure Range 0-15 PSID to 0-6000 PSID (or Equivalent) Uni-directional or Bi-directional
Accuracy ±1% F.S. Standard, ± 1/2% F.S. Optional
Dial Size 6″ (Standard), 4-1/2″ (Optional)
Working Pressure up to 6000 PSIG (400 bar)
Material of Construction – Body Aluminum, Brass, Carbon Steel, 316/316L Stainless Steel
Materials of Construction – Internals Copper Alloy or Stainless Steel
Switch Options:

1 or 2 Switches
SPDT or DPDT Outputs
10 AMP @ 30 VDC, 120/240 VAC
Adjustable from 5 to 95% F.S.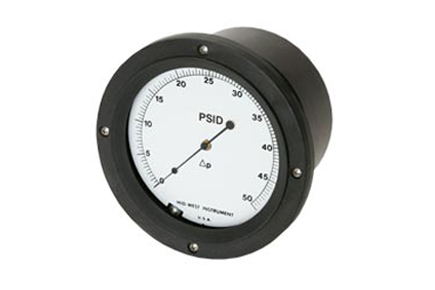 Pricing
Request a price from sales team.

Phone
Talk to one of our Specialists.
+44 (0) 118 9311188
Request Callback

Email
No time to call?
Send us an email.