Temperature
One Series Safety Transmitter
Overview
ABLE are Exclusive Representatives for the One Series Safety Transmitter, designed with features that simplify installation, improve productivity, and eliminate nuisance trips. "I Am Working" sensor diagnostics with redundant data processing detect open, shorted, and plugged sensing elements.
The transmitter's analog output conforms to the NAMUR NE 43 standard and provides process variable (PV) and detected-fault information. Discrete outputs provide a fail-safe (open) emergency shutdown when a fault is detected. Set point and deadband (reset point) are 100% programmable.
The instrument is password protected to prevent unwanted parameter changes; eliminating the risk of tampering. In addition, LED backlighting enhances viewing of process variables, parameters, and status in dimly lit areas.
Specifications:
​ 4-20 mA analog (NAMUR NE 43 standard, accuracy tested in real time)​
Safety Relay Output (SRO) — Solid state relay rated at 0-240 VAC @ 5 amperes, programmable for set point and deadband
SRO Status — Indicates status of the safety relay output
IAW Output — Indicates device health status
Instrument response time: ​ SFF = 98.8%; PFDavg = 1.19×10-3
Risk reduction factor: 840 to maximize safety integrity level (SIL) when used as a component in a safety-instrumented function (SIF)
Redundant and diverse instrument amplifiers and A/D converters
Diverse S/W algorithms process sensor data in parallel to ensure integrity
Certified for use in SIL 2 safety systems by exida1, with SIL 3 capability
Polyester-coated bright yellow aluminum Div. 1 Ex d casting — easily identifies SIF safety transmitter
FMEDA report available upon request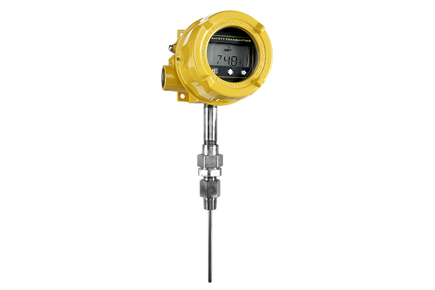 Pricing
Request a price from sales team.

Phone
Talk to one of our Specialists.
+44 (0) 118 9311188
Request Callback

Email
No time to call?
Send us an email.