Humidity
Optica - Chilled Mirror Optical Dew Point Hygrometer
Overview
ABLE offer 'Optica' Chilled Mirror Optical Dew Point Hygrometers, with precision dew point measurement controlled by chilled mirror sensing technology – providing NIST traceable humidity, temperature and pressure measurement anywhere via the worldwide intranet.
The Optica Chilled Mirror Hygrometer measures dew point temperature by regulating the temperature of a polished metal mirror by the use of optical feedback such that a constant mass of dew or frost is maintained. The temperature of the mirror is measured with a precise PRTD and is by definition equal to the dew or frost point.
Features:
Simultaneously measure and display dew point, temperature, and pressure
Display any humidity parameter
Ethernet ready, so you can access GE Optica hygrometers via the Internet for remote monitoring applications
Data logger function lets you record & upload weeks of data
Primary NIST Traceable Humidity Transfer Standard
Accuracy to +/- 0.15°C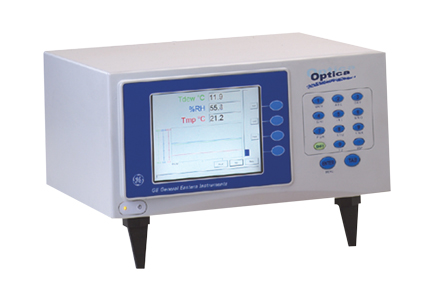 Pricing
Request a price from sales team.

Phone
Talk to one of our Specialists.
+44 (0) 118 9311188
Request Callback

Email
No time to call?
Send us an email.