Model XPDM - Xentaur Portable Dew Point Sensor
Overview
ABLE offer Xentaur Model XPDM portable dew point sensors as the exclusive sales and service partner and calibration centre for Xentaur within the UK.
The portable dew point meter is a battery operated, hand-held, hygrometer designed for applications where quick and accurate dew point measurements have to be made.
The Xentaur dew point meter, XPDM utilitzes HTF aluminum oxide sensors which adsorb water molecules much faster than they desorb water molecules. It is therefore an advantage, if at the beginning of the measurement the dew point sensor is dryer than the gas sample to be measured. The XPDM dew point meter keeps the sensor in dry storage until the measurement is taken. The sensor slides directly from the dry storage into the sample cell, without ever coming in contact with ambient air. After the measurement is completed, the sensor slides back into the dry storage, where it is dried down for the next sample.
Features:
HTF Sensor Technology
Single Point Calibration
SpanCheck™  in the Field
Six Different Engineering Units
Extremely Fast Response
Portable Measurements
Special Long Life Battery (100hrs continuous)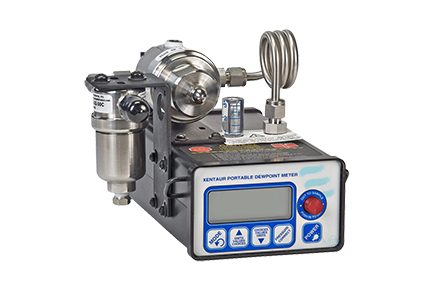 Pricing
Request a price from sales team.

Phone
Talk to one of our Specialists.
+44 (0) 118 9311188
Request Callback

Email
No time to call?
Send us an email.