ABLE FlareMaster - Flare Gas Meter
Overview
The ABLE FlareMaster Ultrasonic Flare Gas Meter has several unique performance enhancing features. It incorporates a dual redundancy, supervisory system; a measurement augmentation tool which addresses well documented performance compromising issues such as transducer contamination and loss of measurement at high velocity. The FlareMaster FGM sustains measurement and verifies performance during these process challenges.
The Big Question: How are energy companies adapting to a lower carbon world?
The meter also encompasses the Enhanced Density Module (EDM), which allows the operator to provide the Flare Gas Meter with full gas stream density inputs (21 AGA8 gas species) in order to negate the effects of density distorting gas compositions. This function is highly effective in reducing measurement uncertainty. For one North Sea Oil & Gas operator, this has already led to significant improvements in the accuracy of Green House Gas (GHG) emissions reporting and consequent Tier 3 compliance.
In addition to this, FlareMaster uses ABLE's proprietary DataFlow software for data gathering and analysis.
FlareMaster at a glance:
Calculates standard and operating gas compressibility
Calculates kinematic gas viscosity
Requires average operating process temperature and pressure
Encompasses both read and write functions
Presents record of gas composition and compressibility inputs for specific FGM
All historical gas composition records also available in tabular format
Displays specific FGM and location data
Provides documentary evidence for regulatory authority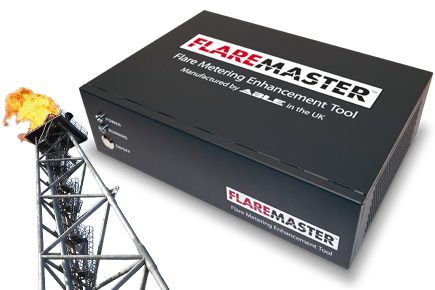 Pricing
Request a price from sales team.

Phone
Talk to one of our Specialists.
+44 (0) 118 9311188
Request Callback

Email
No time to call?
Send us an email.