Steam Flow Guide

Steam Flow Guide
You're One Click Away From Expert Steam Flow Measurement Advice!

Measurement of steam is problematic. Predicting demand overtime is no small engineering task. Measuring usage is critical but obtaining accurate readings can be difficult – especially with saturated steam. You also need to be able to identify potential problems before they happen.
'5 Common Mistakes in Steam Flow Measurement' Guide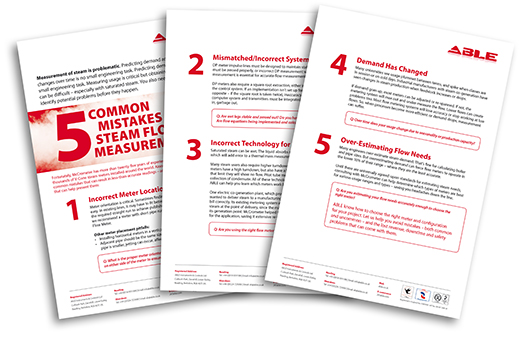 In the above '5 Common Mistakes in Steam Flow Measurement' guide you will:
– Discover the top 5 common mistakes in steam flow measurement
– Learn how over-estimating future need affects measurement accuracy
– Know which questions to ask before they happen
– Find out which meter types have problems measuring saturated steam
Use this guide to determine how a steam flow meter can fit into your existing system, be incorporated into an upgrade, or fit into an initial implementation.
Phone / Email
Need immediate help? Call or email us now on:
+44(0)118 9169 575
info@able.co.uk
Book an engineer
Complete our online form to book an ABLE Engineer.
Book Now