Vision
CorDEX ToughPIX Extreme - Intrinsically Safe Digital Camera
Overview
Simple to use and packed full of features, the ToughPIX EXTREME, intrinsically safe digital camera captures high quality digital images safely in Zone 1 and Zone 2 hazardous (explosive) areas. Whether in daylight, low light or even total darkness the auto adjusting CMOS sensor coupled with best in class LED flash, ToughPIX EXTREME can capture the shot you need.
In addition to high quality still images, ToughPIX EXTREME can also capture movies. With a resolution of 1280×1024 running 5hz the only limit is the space available on the 8Gb intrinsically safe, removable memory card provided as standard with every camera.
ToughPIX EXTREME is not only intrinsically safe, it is also intrinsically secure. Unlike constantly connected IoT devices which represent a real threat to the security of your assets and intellectual property, ToughPIX EXTREME maintains the integrity of your site by creating a single wifi hotspot link for image download, safe to use within the hazardous area. Alternatively, for ultimate security, simply return to the safe area, remove the SD card from the camera and download you images onto a PC via the card reader provided.
ToughPIX EXTREME helps you maximise your return on investment with its 2000mAh removable, rechargeable battery. Unlike devices with built in batteries which need to be remain in the safe area to be recharged, costing you time and money, ToughPIX EXTREME can keep functioning continuously. Once a battery is depleted, simply replace it with a new one and keep on working.
Certified for Zone 1 IIC T4 (G) hazardous (explosive) areas, ToughPIX EXTREME is the low cost, high value solution to digital image capture needed in todays industry. Fully certified by a UK and EU Notified Body, ToughPIX EXTREME is ready for BREXIT with no disruption in supply.
Features
5Mpixel image sensor, tuned to collect fine detail and colour, even in low light
Ultrabright LED flash, powered by a ATEX protected SuperCapacitor, ToughPIX EXTREME has the power to light up large areas in total darkness with complete confidence and safety
Dedicated "rating plate" mode, designed to adjust sensor settings to closeup shots of Ex rating plates
Movie capable with a resolution of 1280×1024 @5Hz, enabling continuous capture of plant operations. So long as there is space on the Intrinsically Secure SD card, you can keep on shooting
A removable, rechargeable battery pack means that you are not wasting time waiting for your camera to recharge, the only limitation on ToughPIX EXTREME runtime is the number of batteries available
With a best in class runtime of 8 hours, ToughPIX EXTREME can complete a full shift on a single charge
Fast, 90 minutes recharge time means that fresh batteries are never far away, keeping your camera up and running, reducing your return on investment
Manufactured from aircraft grade aluminium with a certified Ingress Protection (IP) level 54 to En605209 means that ToughPIX EXTREME can withstand drop, shock, water and ice without letting you down.
Glove friendly button and joystick navigation enables positive selection of menus and sunlight clear LCD means you can always get your shot, day or night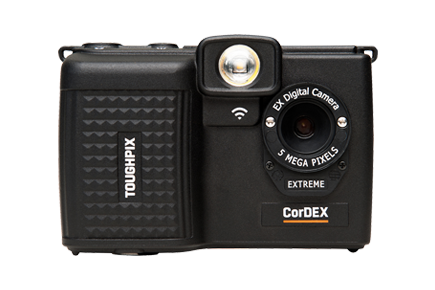 Pricing
Request a price from sales team.

Phone
Talk to one of our Specialists.
+44 (0) 118 9311188
Request Callback

Email
No time to call?
Send us an email.