Uncategorized
HD-1000 - Handheld / Portable Analysers
Overview
As a UK channel partner for Advanced Sensors, we are pleased to offer the new HD-1000 handheld/portable oil in water analyser.
The Advanced Sensors HD-1000 is a portable handheld Oil in Water analyzer with an integrated probe to measure oil directly in water samples.
The industrial flexible probe allows for real-time measurements, with spectral analysis which enables oil type and chemical identification. These features make the HD-1000 a unique and revolutionary device for the Oil in Water analysis industry.
Features:
Real-time measurement
Both direct Oil in Water measurement and solvent extraction  measurement
Laser Induced Fluorescence (LIF)
Various measurement ranges configurable (0-1ppm, 0-10ppm, 0-100ppm […] up to 0-3,000ppm)
Integrated spectral analysis (oil recognition and chemical identification)
Industrial, robust flexible optical probe for ease of measurement in various applications
Incorporated touch screen with auto orientation
On screen notepad
On screen video user manual
Bluetooth and Wi-Fi communications (4G optional)
Portable and light weight (0.8kg)
User interface available in Arabic, French, Norwegian, Portuguese and Spanish; other languages available on request.
Benefits:
No solvents or consumables necessary
Instantaneous measurement: zero sample processing required
Automatic software update (optional)
Measurement data log can be shared via email, Bluetooth or Wi-Fi
Downloadable oil calibration files from cloud based library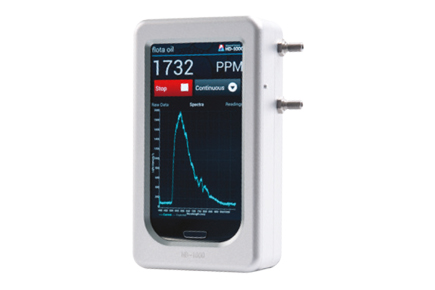 Pricing
Request a price from sales team.

Phone
Talk to one of our Specialists.
+44 (0) 118 9311188
Request Callback

Email
No time to call?
Send us an email.