Moisture
Computrac Vapor Pro - Moisture Specific Analyser
Overview
ABLE Instruments are the exclusive UK representative for the Computrac Vapor Pro, which provides a GREEN, fast, easy, and cost-effective alternative to Karl Fischer titration methods. It is an ideal choice for companies who want to make quality products as efficiently as possible by saving time and money, improving dryer efficiencies and eliminating costly rework and downtime expenses.
Features:
Temperature Calibration Interface (TCI) Module (optional)
21 CFR Part 11 Compliant (optional)
No Toxic Reagents or Specialized Glassware
Automatic, Menu Driven Operation Requires Minimal User Skills
Automatic Sample Loading
Self-Diagnostics Alert Operator of any Instrument Problems
Security Feature Restricts Access to Program and Instrument Settings
Optional Multi-Point Temperature Calibration Module utilizes NIST-Traceable RTD to ±1°C
Validation Package and Validation Services Available
Real-Time Graph of Moisture Curve and Rate of Moisture Loss
Accuracy, Durability, Reliability, Consistency and Speed
Continuous Display of Test Time, Current Temperature, Programmed Test Temperature, Current Microgram Water Measurement, and Calculated Moisture Content
Statistical Features Calculate Mean, Standard Deviation and Coefficient of Variation (C.V.)
Easy Setup of Product Methods to Ensure Optimum Test Results
Flexible Ending Criteria to Ensure Accurate Test Results
Programmable Temperatures to ±1°C
Accessories:
Carrying Case Assembly
External Balance with Cable, 110V
Printer Kit, Parallel 110V
Temperature Calibration Interface (TCI) Module Kit 110V
Dry Air Generator Kit 110V
Validation Protocol (IQ/OQ/PQ) Kit
Vapor Pro Communications Software Kit
Technology Transfer Kit (Binder & CD)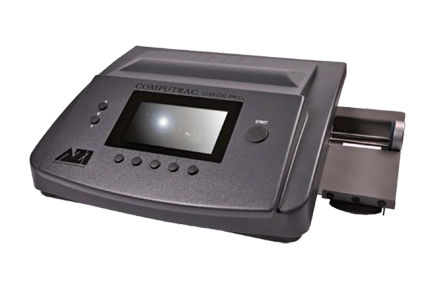 Pricing
Request a price from sales team.

Phone
Talk to one of our Specialists.
+44 (0) 118 9311188
Request Callback

Email
No time to call?
Send us an email.