Light
ILT800 - Belt Radiometer
Overview
The ILT800 CureRight is a feature-rich profiling UV curing radiometer that delivers unmatched flexibility and capability not found in any other system. Its versatility allows teh unit to measure lights used for UV curing and for numerous other applications such as sterilization / disinfection, lithography, and more. The system has been designed with the varying needs of its users in mind, and can be configured and customized to your unique environment.
The ILT800 CureRight series measures and validates all types of UV curing methods and sources including conveyor, belt, oven, flood, area, spot, fiber optic, collimated beam, side cure, 180° curing, 3D printing, pulsed and traditional UV lamps, and UV/VIS LEDs & light sources.
The ILT800 CureRight system outperforms the competitors with features such as profiling as a standard feature, and programmable settings such as measurement modes (auto/manual/live), minimum light level threshold, lamp-to-lamp measurement interval (delay). The system also has a uniquely designed user interface that places the input sensor and optic, device controls, and the readout display all on the same side, allowing simultaneous measuring, monitoring, and analyzing of measurement data.
Features:
Solid-state detector for lower noise and reduced cost.
Stores up to 1,000 measurements
View saved measurements on meter's integrated display
Download saved measurements to your PC
Simple CureRightTM PC interface to download, view and compare measurements
Measures mW/cm2 to 40 W/cm2
Effortless results, clear data, easily identifies problem
Graphical display of measurements (profiling) is standard
3000 samples per second
Integration for up to 10 minutes
Measure pulsed and continuous sources
Mapping: face horizontally, vertically, up or down
Linear response- no range selection required
ISO17025 Accredited and NIST Traceable Calibration
Custom & OEM inquiries welcome
The response curves for each filtration option are shown below.  Custom designs are also available.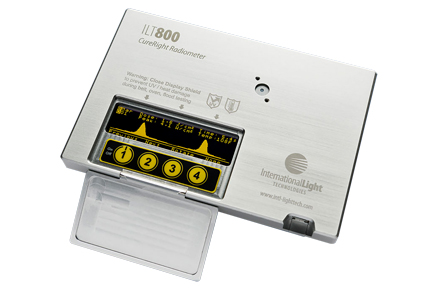 Pricing
Request a price from sales team.

Phone
Talk to one of our Specialists.
+44 (0) 118 9311188
Request Callback

Email
No time to call?
Send us an email.