Level
Magnetrol E3 Modulevel - Liquid Level Transmitter
Overview
The Digital E3 Modulevel is an advanced, intrinsically safe two-wire instrument utilising simple buoyancy principle to detect and convert liquid level changes into a stable output signal. The linkage between the level sensing element and output electronics provides a simple mechanical design and construction. The vertical in-line design of the transmitter results in low instrument weight and simplified installation. The instrument comes in a variety of configurations and pressure ratings for varied applications.
The Digital E3 MODULEVEL transmitter has microprocessor-based electronics with HART compatible output, in addition to the standard 4-20 mA output. The E3 MODULEVEL unit supports the FDT/DTM standard and a PACTware™ PC software package allows for additional configuration and trending capabilities.
Features
SIL Certified, SFF value of 90.6%
No calibration required; configuration only
Available with 4–20 mA and HART® 6.x with PACTware™ PC software and the Field Device Tool (FDT); AMS ready
Foundation fieldbus™ option with PID block and Link Active Scheduler (LAS) capability
Comprehensive diagnostics with faults, warnings and status history
Range spring suppresses effects of turbulence to produce stable output signal
Suitable for process pressures up to 5150 psig (355 bar)
For use in process temperatures up to +850° F (+450° C) in non-steam applications
Explosion-proof, intrinsically-safe and non-incendive approvals from FM, CSA, ATEX and IEC
Specific gravity adjustment without stopping process
Transmitter head rotatable through 360° and removable without interruption of process
Suitable for interface measurement and density detection
Electromagnetic compatibility per CE requirement EN 61326
Shock and vibration suitable per ANSI/ISA-S71.03 Class SA1 and VC2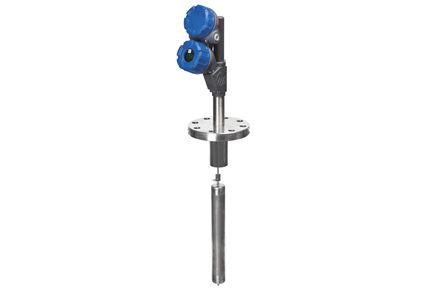 Pricing
Request a price from sales team.

Phone
Talk to one of our Specialists.
+44 (0) 118 9311188
Request Callback

Email
No time to call?
Send us an email.