Gas Analysers
Jerome J505 - Portable Mercury Vapour Analyser
Overview
ABLE Instruments are Exclusive Representatives for AZI's latest Jerome J505 Mercury Vapour Analyser, which is a portable fluorescence spectroscopy analyser. This technology allows the detection cell to be smaller, simpler, more durable and lighter weight than other spectroscopy instruments. The high efficiency optical cell needs less flow to purge the system, allowing the AZI J505 to run at a lower flow rate, which minimises sample dilution to achieve accurate readings.
Features:
Meets EPA & ATSDR Clean up Levels
Data handling is flexible
A Choice between Two Independently Adjustable High Limit Alarms
Programmable Auto Sampling Mode (ASM)
Choice of 3 Units of Measurement (nanograms, micrograms, milligrams)
Colour Display with Easy to Use Menu System
Battery Operation for 10+ Hours, Battery Charges in 3 Hours or Less
A USB Keyboard can be used for Easy Entry of Locations
Integrated Data Logging Saves all Test Results
Accessories:
Hard Transit Case
Soft Carrying Case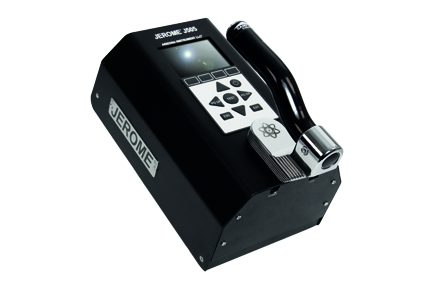 Pricing
Request a price from sales team.

Phone
Talk to one of our Specialists.
+44 (0) 118 9311188
Request Callback

Email
No time to call?
Send us an email.