McCrometer ExactSteam V-Cone System
Overview
The ExactSteam V-Cone system's innovative design delivers repeatable accuracy of +/- 0.5% of rate with up to a 50:1 turn-down under the most challenging flow conditions. Readings are always precise and reliable, even under changing process parameters. With this unique ability to self-condition flow, the ExactSteam V-Cone system virtually eliminates the need for upstream or downstream straight pipe runs. The ExactSteam V-Cone can be installed virtually anywhere in a piping system or easily retrofitted into an existing piping layout, resulting in significant installation flexibility and cost savings. In addition, the ExactSteam V-Cone has been proven to provide stable, reliable performance with exceptional longevity.
The Complete Solution
The ideal solution for steam flow measurement is McCrometer's ExactSteam V-Cone, a complete flowmeter factory configured for energy metering or mass flow. The ExactSteam V-Cone accurately measures steam across the entire application range with technology-leading low flow cut off, and acts as its own flow conditioner by disrupting all centralized flow disturbances.
The ExactSteam V-Cone can measure Superheated (dry), Superheated and Unsaturated (wet) steam.
Features
A complete flowmeter for steam metering, factory configured for energy metering or mass flow
Accurate steam measurement across entire application range with advanced low flow cut-off
Simple retrofitting and outstanding installation flexibility – no flow conditioner required
Requires minimal straight pipe
V-Cone technology produces the lowest permanent pressure loss to maximise plant efficiency
The V-Cone flowmeter's primary element has a 25 year+ lifespan resulting in low maintenance costs
No recalibration
Learn More
McCrometer V-Cone Flow Meters are sometimes referred to as 'McCrometer VCone Flow Meters' and 'McCrometer V Cone Flow Meters'.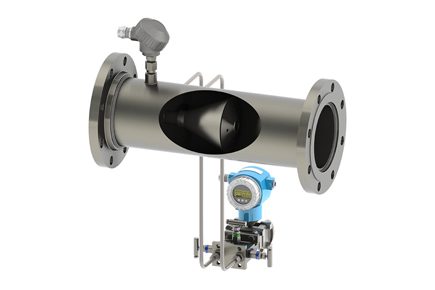 Pricing
Request a price from sales team.

Phone
Talk to one of our Specialists.
+44 (0) 118 9311188
Request Callback

Email
No time to call?
Send us an email.