Light
ILT400 - Belt Radiometer
Overview
ABLE offer the ILT400 Belt Radiometer, equipped with a solid-state detector for long term stability and reduced cost over traditional vacuum phototubes. The ILT400 all-in-one Belt Radiometer, comes in three versions: ILT400UVA measures UVA from 315 – 390 nm, ILT400BAV is designed for broadband covering 275 – 485 nm, and the ILT400UVV peaks in the visible spectrum covering 390 – 475 nm.
The ILT400 works with many lamp options from UV LEDs, Iron doped, H and D type lamps, as well as standard UV bulbs, but is not recommended for flashing or pulsed lamps.
Specifications:
Solid-state detector for lower noise and reduced cost.
Built-in rechargeable batteries with included charger means less downtime.
Graphically displays the performance of each lamp and reflector in your system. A stored reference plot allows you to compare, on-the-spot, the current performance of the system with the base line. The information is provided instantly. and allows the operator to see the uniformity of the illumination.
Measurement Range:

5 mJ/cm2 to 20 J/cm2 (5 mW/cm2 to 20 W/cm2 (Graphic Profiling begins at 5 mW/cm2)

Temperature range: 10 to 60º C internal case temperature (greater ambient temperatures can be tolerated for short periods if the maximum internal case temperature of 60º C is not exceeded)
Belt speed: 1 to 80 feet-per-minute
Footprint:

0.5 inches x 4.4 inches x 6.3 inches(12.7 mm x 111 mm x 161 mm)

Part Number/Spectral Response:

ILT400BAV (275 – 485 nm)
ILT400UVV (390 – 475 nm)
ILT400UVA (315 – 390 nm)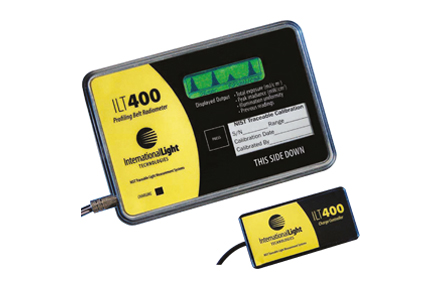 Pricing
Request a price from sales team.

Phone
Talk to one of our Specialists.
+44 (0) 118 9311188
Request Callback

Email
No time to call?
Send us an email.