Sitrans FUP1010 - Portable
Overview
ABLE Instruments offer Sitrans FUP1010 clamp-on non-intrusive ultrasonic flowmeters, with maximum versatility plus battery power for portable field use. It can operate in either WideBeam transit time or Doppler mode, making it suitable for virtually any liquid.
Sitrans FUP1010 is ideal for general flow survey work where high accuracy is required. It is being offered in single and dual channel/path configurations in a weatherproof enclosure. The portable meter  is also available as a pre-configured Water Check Metering Kit  for the water and wastewater industry.
Application examples include  raw and potable water, sludges, mixed liquor, hot and cold water systems, thermal energy and batching.
Benefits:
Facilitates use in the field thanks to meter portability and one hour quick charge for four hours of normal operation
Withstands rain damage and rough treatment that would destroy most other meters
Minimises capital cost by allowing simultaneous measurement of two pipes (dual channel)
Allows storage of numerous site data, making it very suitable for survey use
Measures a wide variety of liquid applications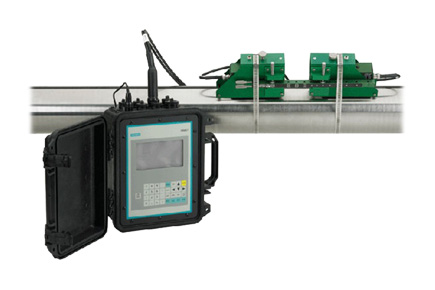 Pricing
Request a price from sales team.

Phone
Talk to one of our Specialists.
+44 (0) 118 9311188
Request Callback

Email
No time to call?
Send us an email.