Sitrans FUE1010 (Energy) - Ultrasonic Clamp On Liquid Flow Meter
Overview
ABLE offer the Sitrans FUE1010 (energy), a highly accurate clamp-on non-intrusive ultrasonic flow meter for revenue grade thermal energy sub-metering and energy efficiency distribution monitoring, with a real time coefficient of performance (COP) for HVAC systems.
The FUE1010 is being offered in single and dual channel/path configurations. There are two enclosures to choose from: wall mount and portable. The meter is also available as a pre-configured, portable Energy Check Metering Kit dedicated for the HVAC industry.
Application examples include chilled and hot water sub-metering, condenser water, glycol, thermal storage and lake source cooling.
Benefits:
Allows measurement of both low flow rates and low differential temperatures
Includes various output options, including energy rate and total consumption
Minimizes capital cost by enabling simultaneous measurement of two pipes (dual channel)
Measures a wide variety of liquid applications
Accommodates shift in measurement technology necessitated by presence of high aeration or suspended solids (dual mode)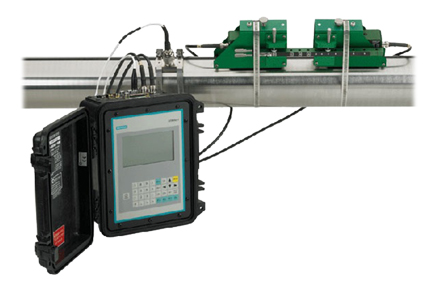 Pricing
Request a price from sales team.

Phone
Talk to one of our Specialists.
+44 (0) 118 9311188
Request Callback

Email
No time to call?
Send us an email.