Light
ILT490 - Belt Radiometer
Overview
ABLE Instruments offer the ILT490 Belt Radiometer, which contains the same vacuum phototube & filtration as the original IL390/IL290 to allow easy upgrades for existing customers, assuring the same spectrum is measured. The ILT490 all in one Belt radiometer comes in two versions: the ILT490 broadband UV for 250-400 nm, and the ILT490C UVC for 205-345 nm.
The ILT490 works with many lamp options from Iron doped, H and D type lamps, as well as standard UV sources, but is not recommended for flashing or pulsed lamps. The ILT490 series has an auto shut off feature that stops measurement once less than the minimum exposure level is measured for 5 consecutive seconds.
For customers needing long term integration, ILT offers a special version of code that does not have autoshut off (ILT490ON, ILT490CON). The "ON" code disables the profiling mode, allows long term measurement and displays the peak irradiance as well as  total integrated exposure.
Specifications:
Measurement Range: 5 mJ/cm2 to 20 J/cm2 (5 mW/cm2 to 20 W/cm2 (Graphic Profiling begins at 5 mW/cm2 )
Belt Speed: 1 to 80 feet-per-minute
Temperature: 10 to 60º C internal case temperature (greater ambient temperatures can be tolerated for short periods if the maximum internal case temperature of 60º C is not exceeded)
Accuracy: Typically better than + 6%
Cosine Receptor: Integrating sphere
Display: 4 Digits
Display Graphics: Resolves 5% of full scale (peak irradiance)
Footprint: 12.7 x 111 x 161 mm (.5" x 4.4" x 6.3")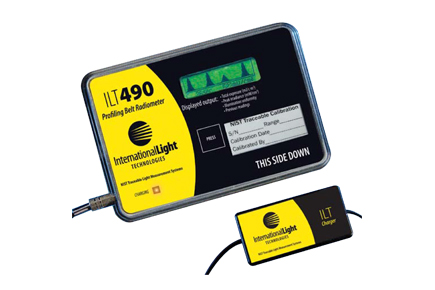 Pricing
Request a price from sales team.

Phone
Talk to one of our Specialists.
+44 (0) 118 9311188
Request Callback

Email
No time to call?
Send us an email.