Gas Detectors
United Electric Vanguard - Intrinsically Safe WirelessHART Gas Detector
Overview
The Vanguard WirelessHART gas detector is ideal for the monitoring of toxic and combustible gases without the need for costly and fixed wiring. With a five year battery life and one button calibration, the Vanguard detector is easy to operate and maintain.
Each Vanguard detector has a WirelessHART transceiver, an antenna, a display, a long life power module, a gas sensor, and a signal processor for the gas sensor. Vanguard uses a sensor architecture trademarked "Flexsense," which allows the sensor to identify its target gas and self-configure to a Vanguard transmitter upon connection.
It is currently available with either a non-dispersive infrared (NDIR) methane sensor (0-100 %LEL), an electrochemical hydrogen sulphide sensor (0-100 ppm), an electrochemical carbon monoxide sensor (0-500 ppm) or an electrochemical ammonia sensor (0-100ppm).
Wireless gas detectors like the Vanguard can augment existing gas detection coverage with minimal financial and labor outlay. The Vanguard can be plugged-and-played anywhere in an existing WirelessHART® mesh and perform its role as a first line of defence for H2S monitoring.
Features:
Wireless capability
Field interchangeable toxic and combustible gas sensors
Interoperable with existing WirelessHART® networks and asset management systems (AMS)
Easy calibration and operation
5+ year battery life
Heavy duty design with Class 1, Div 1 & 2 hazardous location approvals
Specifications:
Operating Temperature: -40°F to 149°F (-40°C to 65°C)
Supported Gases: Methane (CH₄) ; Hydrogen Sulfide (H₂S)
Resolution: 1%LEL or 1ppm
Accuracy: CH4 sensor – ±2% LEL or +5% of indication, whichever is greater ; H2S sensor – ±2 ppm or +5% of indication, whichever is greater ; carbon monoxide sensor – ±5 ppm or ±5% of indication, whichever is greater ; ammonia sensor – ±2 ppm or ±5% of indication, whichever is greater.
Enclosure: Type 4X, IP66
Weight: 9.6 lbs (including sensor and battery)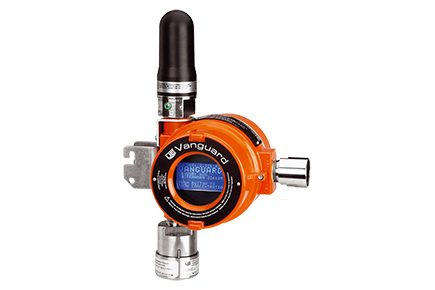 Pricing
Request a price from sales team.

Phone
Talk to one of our Specialists.
+44 (0) 118 9311188
Request Callback

Email
No time to call?
Send us an email.