Gas Detectors
Chillgard RT Refrigerant Monitor
Overview
The CHILLGARD RT is suitable for all industrial refrigeration systems or chillers be it production or research operations, food cold storage or meat packing operations. It allows precise monitoring of the smallest refrigerant concentrations and detection of leak locations. Thus it protects man and environment against these hazardous agents, prevents poisoning of the cold food and helps to save costs which would incur from the loss of refrigerants.
Refrigerants that endanger the ozone layer are still frequently used. These will disappear in the next few years and they will be replaced by environmentally friendly ammonia.
The CHILLGARD RT already takes this development into account today.
Features:
Reliable, precise and stable
Detects concentrations as low as 1 ppm
Prevents loss of refrigerants and poisoning of the cold goods
Easy to install, adjust and maintain
Highly developed IR measuring technology at comparatively low cost
Operation over a wide temperature range
Large 2-lines x 20 character vacuum fluorescent display which shows alarm indications and actual gas concentration
3 adjustable alarm levels
Relay outputs for each alarm level (latching/nonlatching)
Instruments are available with 1 channel, 4 channels or 8 channels
Air humidity, a problem for IR analysers, has no effect on the new MSA CHILLGARD RT
Measurement according to the principle of photoacoustic infrared absorption in the range of 0…1000 ppm. This permits monitoring below the TLV of 10 ppm for HCFC 123 and much higher concentrations in case of an accident.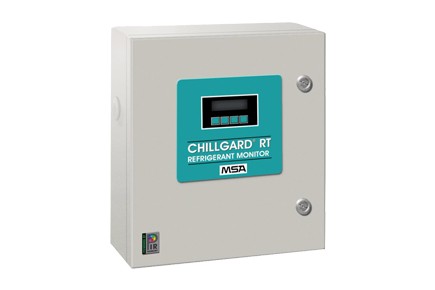 Pricing
Request a price from sales team.

Phone
Talk to one of our Specialists.
+44 (0) 118 9311188
Request Callback

Email
No time to call?
Send us an email.