Service / Support
Overview
Regular inspection of meters is recommended. Whilst our Flare Gas Meters are designed and built to be rugged, the aggressive environment in which they are applied can have detrimental effects. Regular checks on electronics, seals, gaskets and explosion proof housings will ensure that your measurement is never compromised.
To ensure the highest competency, ABLE will continue to certify its own service personnel via
rigorous internal training schedules, which are carried out in a live process environment using our
state-of-the-art training rig and are regulated by our ISO 9001 quality systems. Furthermore, as has
always been the case, ABLE will continue to apply its own warranty to the goods and services it
provides.
Servicing by an ABLE certified technician is a comprehensive process and typically involves the following steps:
Transducer cleaning
Zero-point calibration
Calculations and totalization check
Ultrasonic signals and configuration list download
Analog output calibration
Analog pressure and temperature input calibration
Firmware updates
Provision of service and status report with associated certification
Input and Output Calibration
During service, inputs and outputs are checked with a certified loop calibrator and a calculated correction coefficient is set. This ensures proper system calculations and data acquisition.
Calculation Check
A calculation check ensures that all the flow meter calculations and settings are appropriate and internal clock cycles are correct.
Spare Parts
Our flare gas meters have no moving or wearing parts, so few operational spares are required. These include:
Flanges
Ball valves
Pressure & temperature transmitters
FGM – board stack, cable glands, O-rings & fuses
Transducers & transducer cables
Packing box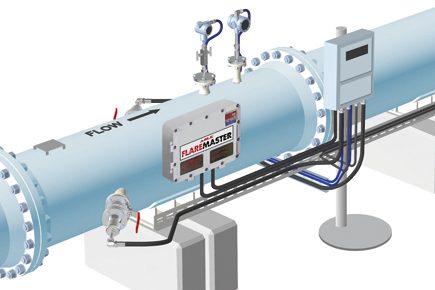 Pricing
Request a price from sales team.

Phone
Talk to one of our Specialists.
+44 (0) 118 9311188
Request Callback

Email
No time to call?
Send us an email.